Tara Landy
FSEM Beauty and Brains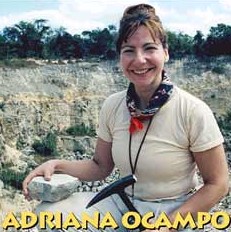 Adriana Ocampo grew up in Buenos Ares, Argentina dreaming about exploring planets. She never doubted that all her dreams would come true someday. How did Adriana land a job with NASA while still in her teens? How did a robot parked on Mars make her fall in love with rocks and instantly decide to become a planetary geologist? Adriana's imagination and pure drive have led her to a life of science adventures. Adriana helped find the missing Crater of Doom, a hole blasted out of Earth by a killer space rock 65 million years ago, when the dinosaurs died out. Now she is searching the world for the stuff that came from that crater. Between rock digs she explores other planets through NASA's space exploration.
Major Recognitions/ Awards
Woman of the Year Award in Science, Comision Femenil, Los Angeles, 1992; Advisory Council for Women Award, JPL, 1996; Science and Technology Award, Chicano Federation, 1997; CSUN's Distinguished Alumni Award, 2008.
Adriana Ocampo sparked my interest because I felt that we shared the same loves in the science field. As a young girl, I loved collecting rocks and studying the detailed divots and shiny sparkles on every rock that I discovered. While other girls were playing with dolls, I was stuffing my shorts pockets with dozens of rocks. I am also captivated by the stunning stars on a clear night and always take the time to notice the universe's wonders. Adriana's passion for geology and positive attitude demonstrate what it takes to become a remarkable female scientist.  
I consider Adriana Ocampo a remarkable role model for an aspiring future scientist because she believes that any young person, from any country or background can reach for the stars. She followed her dreams and stopped at nothing to achieve them. With effort, time, and persistance, one can do anything; it doesn't matter if you are a girl.
 See Adriana in action as she digs up some answers about our planet's past: http://www.iwaswondering.org/adriana_video.html